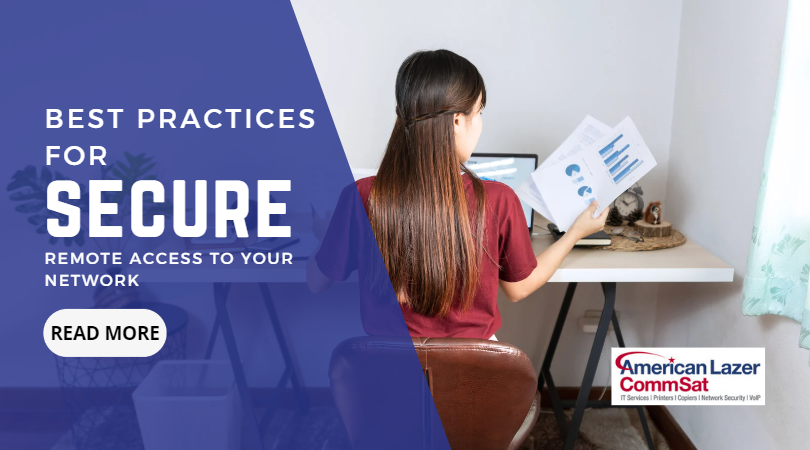 Best Practices for Secure Remote Access to Your Network
In today's modern workplace, remote network access to a company's network has become necessary. With more and more employees working from home or on the go, secure remote network access is crucial to maintain the integrity of a company's data and systems. However, with remote access comes a range of security risks, including cyber-attacks, data breaches, and unauthorized access. This blog will discuss the best practices for secure remote network access.
Implement a VPN
A Virtual Private Network (VPN) is a network technology that allows secure remote access to a company's network by encrypting data traffic. It creates a secure and encrypted connection between the remote user and the company's network, making it difficult for hackers to intercept sensitive data. Implementing a VPN is one of the most effective ways to secure remote network access.
Use Multi-Factor Authentication
Multi-factor authentication (MFA) is a security measure that requires more than one form of authentication to access the network. It adds an extra layer of protection against cyber threats by requiring the user to provide additional information, such as a security code or biometric data, in addition to a password. MFA makes it more difficult for attackers to gain unauthorized access to the network.
Restrict Access with Access Control Policies
Access control policies are rules that determine who has access to what resources on the network. Restricting access based on job roles and responsibilities ensures that only authorized personnel can access sensitive data. Implementing access control policies helps to prevent unauthorized access and restricts potential damage from an internal or external threat.
Regularly Update Security Software and Firmware
It's important to regularly update security software and firmware to protect against the latest cyber threats. This includes firewalls, antivirus software, intrusion detection systems, and any other security software or hardware. Keeping up-to-date ensures that the network is protected against the latest security threats and vulnerabilities.
Monitor Network Activity
Monitoring network activity helps to identify potential security threats and vulnerabilities. By regularly monitoring the network, administrators can detect and respond to any suspicious activity before it causes damage. This includes monitoring network traffic, log files, and user activity. Automated systems can also be put in place to alert administrators of any suspicious activity.
Educate Employees on Secure Remote Network Access
Employees are the weakest link in network security, and any individual can play a part in ending cyber-attacks. Educating employees on best practices for secure remote network access can help to prevent security breaches caused by human error. This includes password hygiene, safe internet browsing, and identifying phishing attempts.
Use Reliable Network Solutions from American Lazer CommSat
With American Lazer CommSat, you can find network security solutions to ensure all of your business data is safe. Our network security services include:
VPN & Secure Remote Access for remote team members

Commercial Antivirus protection that goes beyond popular retail solutions

Virus Removal and Mediation which you shouldn't need once you use our proactive services

Firewall installation and support maintenance

Comprehensive network security audit
If remote employees are accessing your network, you should protect your business with reliable network security solutions. You can contact American Lazer CommSat here or call (866) 922-9003 to get in touch with our Massachusetts-based team.