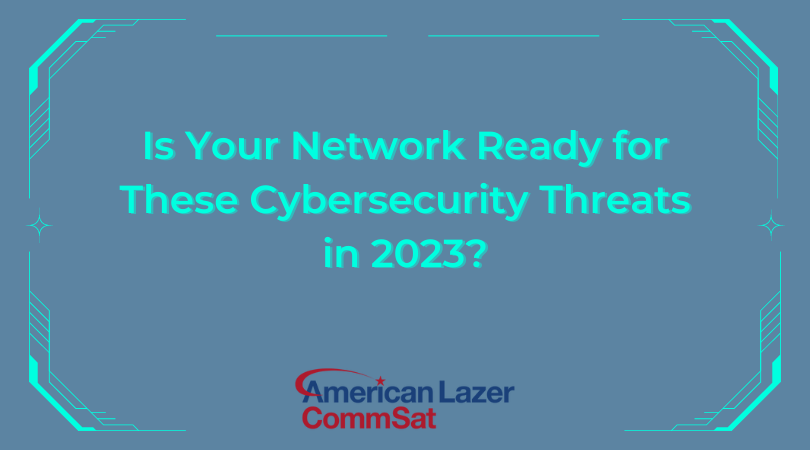 Is Your Network Ready for These Cybersecurity Threats in 2023?
As the new year rolls around, more opportunities for hackers and scams present themselves to your business from all fronts. You too can be affected – these malicious internet attacks don't discriminate between large, medium, or even small businesses. Staying connected online will always keep you at risk of information or monetary theft if your cybersecurity isn't prepared. 
Looking ahead into 2023, experts have made predictions about several cyberattacks that your business should be on the lookout for. Forbes recently released what they believe will be the top threats to your network this year:
Ransomware
Ransomware is a classic example of a cybersecurity attack. Scammers online steal your information and hold it for ransom, often forcing several payments to both gain access to the stolen assets and to prevent their sale elsewhere on the web. To handle ransomware effectively, the initial breach needs to be prevented through employee cybersecurity training and network security fortification. It's much more difficult to resolve a ransomware attack if they gain access to your information.
Unpatched Security/Misconfigurations
If you're managing your own systems or are unaware of the current industry security standards, then you run the risk of misconfiguring your security and leaving it vulnerable to viruses and malware. Online tools can easily allow hackers to identify these errors and enter your system. Partnering with knowledgeable sources for your network security management can help fortify your infrastructure and keep these easy breaches at bay.
Credential Stuffing
Unfortunately, it's human nature to reuse easy-to-remember credentials across multiple accounts and platforms. When attackers gain access to login information from one website, many times these credentials can then be used to access another account on a separate website. This can be an easy fix – utilizing multi-factor authentication and encouraging your staff to cycle through passwords can protect your business from credential-stuffing attempts.
Employee Vulnerabilities
Sometimes the biggest threat comes from within your business. Without proper employee training in basic cybersecurity practices, you run the risk of losing critical information through your employee channels. Email phishing scams and other means of baiting your staff can trick them into giving up valuable information or credentials. It's recommended by experts that employees are trained to identify these attacks in combination with preventative measures (spam filters, etc.) to avoid these risks.
Protect Your Network from These Cybersecurity Threats
Don't wait until it's too late – oftentimes cyberattacks can take days or weeks to identify, and by the time you identify the attack your company could have already accrued thousands in losses. The easiest way to fortify your network and secure your data is by implementing industry-standard security services. Firewalls, antiviral software, and 24/7 monitoring are necessities for any business connected to the internet.
At American Lazer – CommSat, we understand the stress this can put on your IT department. American Lazer – CommSat's network security services offer you reliable upkeep and defense of your systems, allowing your employees to prioritize other critical IT responsibilities. To learn more about our services or how we can work for you, connect with us today at https://commsat.net/contact/.