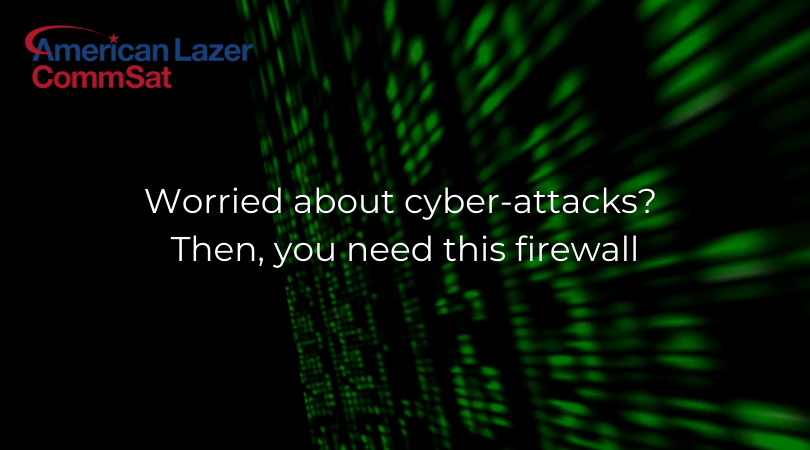 Worried About Cyber-Attacks? Then, You Need This Firewall
Just like an alarm system is there to protect you from any potential threats, a firewall protects your business computer network, or your neighborhood, from any data security threats.
These threats can look like cyber-attacks, untrustworthy traffic, and malicious software. The word firewall comes from the flame-resistant barrier that used to protect two buildings from the spread of fires. 
An online firewall does the same thing. In the age of cloud computing (i.e. storage saved on the internet, rather than hardware like a flashdrive), firewalls are still needed for technology that relies on the internet such as refrigerators, air filters, and the use of AI voice systems like Alexa.  
Do I Need a Firewall?
In the age of cloud computing, you may think that you don't need a firewall. But that simply isn't the case. Although many systems come with firewalls, if you are still seeing an increase in suspicious activity, then you should consider installing a firewall like SonicWall if you don't have one already. 
Having multi tiered layers of defense are essential as hackers are getting more and more sophisticated. If one area of your security plan is attacked, you still have those areas of defense to protect your data. Which is why you need more than one solution in this complex digital age.
What Does a Firewall Do?
A firewall makes sure that your digital home is protected by checking the source and contents of any information received online, like an email. Not only that, they can make sure that confidential information is leaked to your network. This prevents employees from sharing sensitive information with anyone.
What Are the Benefits of Getting SonicWall from American Lazer- CommSat?
SonicWall was started in 1991 during the dotcom boom and has been growing ever since. It is considered a Next Gen Firewall as it not only checks the source and recipient of the information is trustworthy but also the contents to make sure that no malicious content enters the network.
SonicWall boasts easy to manage features which can be managed via American Lazer- CommSat.
What Does SonicWall Do That is Different from Others?
SonicWall is one of our preferred vendors and has several things that make it stand out from the competitors:
1. Blocking Ransomware and Breaches
SonicWall is able to prevent millions of known and unknown threats from entering the network before it becomes a danger to your organization. They extend on these capabilities by detecting unknown and zero day attacks through a cloud based, multi engine sandboxing service.
2. Prevent Data Leaks Over Email or Web
Some companies' security systems do not check the content of emails. In which case confidential information could leave the network. With SonicWall, you can enable Data in Motion, which would allow an inspection of materials marked as confidential or proprietary information. 
If you use a webmail service like Yahoo or Gmail, company confidential information will still be blocked on files transferred via https or https.
3. You Can Control the Applications That Are Allowed on the Network
This way of governing the workplace centrally, means that if you want to update to the latest version of Google Chrome, you can do so and restrict access to the earlier versions.
4. You Can Prioritize Applications on the Bandwidth
We all know the feeling of not having enough bandwidth, or space, because someone is clogging up the network with a heavy application. Not anymore, with Sonicwall. You can prioritize applications like Salesforce and reduce unproductive web surfing which will increase productivity within your business.
5. Block Unproductive Components of an Application
You can control what aspects of an application are allowed. Say you are a marketing agency that relies on social media channels such as Facebook or Instagram. You can block Facebook Games within Facebook, but still allow market research that may take place in Facebook groups.
6. Visualize Your Application Traffic
Ever wondered why your network is slow? Now you can look at a graph and see in real time the answer to that question. Then you can go on and diagnose any issues, see what compliance changes need to be made, or what policies need to be changed or further implemented.
7. Manage Bandwidths for a Group of Users
If you have the Head of Operations wondering why he can't watch the news because the video is too choppy, then you can go back and manage his bandwidth for streaming videos. Meanwhile still maintaining the bandwidth usage for others in the company.
8. Identify Connections by Country
If you see that your IP connection is being reported from a foreign country, it could just be a benign report from surfing on the web or using a VPN, but it could also be a botnet. With SonicWall, you can see which users are using connections from another country if any, or create lists to filter traffic to different countries.
There are many different firewalls, but SonicWall is trustworthy, constantly evolving  and updating their technology, and offers a robust amount of support to accommodate different budgets and needs.
Wondering how to set up SonicWall?
If you are in MA or NH, American Lazer/CommStat is here to install SonicWall for your business. Just give us a call 978-309-9900, email [email protected], or use our Contact Us form.