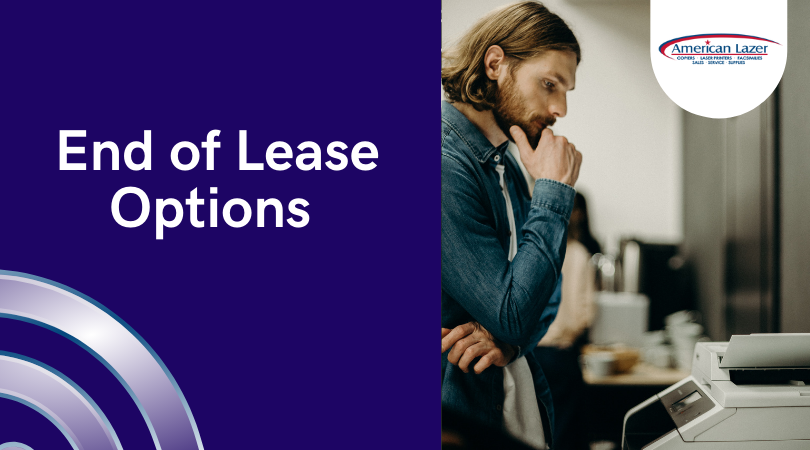 Your office multifunctional printer/copier (MFP) lease expiration is coming up. You're undoubtedly wondering if you'll be able to keep your equipment if the lease runs out. Will the leasing firm expect you to return the MFP after the lease expires? Can you purchase it?
The type of lease you have will determine the answers to these questions. It's a good idea to study your company's alternatives so that you can make an educated decision.
End of Lease Options:
Renewing your current lease
Buying out your existing equipment
Upgrading to a new device
If you have questions, reach out to your American Lazer rep or click here to fill out a quick form for one of our professional reps to contact you.
Renew your current lease
If you're renewing your lease, it's a simple procedure that will allow you to keep using your existing equipment. This type of agreement is typically based on a 12-month renewal term. The process is simply a continuation of your old lease. You must notify the leasing business that you wish to continue with your current agreement and will continue to bill you the same amount of installments as per your initial contract.
Buy out your existing equipment
The option to buy out your current equipment depends on your current contact, you might not have this option – check your contract. The buyout process can be based on the market value of your MFP at the end of the lease or a predetermined buyout amount agreed upon at the beginning of the contract. Your American Lazer rep will help you navigate the buyout process.
Upgrade to a new device
Most of our customers choose to upgrade their technology instead of renewing their present lease. By upgrading to the latest MFP, you will benefit from the latest technology in terms of security, productivity, email, scanning, and a plethora of add-ons. Upgrading your equipment to newer models is also a straightforward process.
How to prepare for the end of your lease
Cost
Before you reach the end of your agreement, get familiar with your present expenses. New technology could be more cost-effective. You should obtain a quote to see if this is the case.
Technology
Look into technological advancements that have occurred in the MFP industry since you entered into your agreement, especially if you were in a 3-5 yr lease. There may be new technology that can help advance your business and processes.
Security
Research MFP security. Does your current MFP protect your company against hackers or is your data vulnerable? Newer MFPs come with a host of security features.
Your decision should be based on what is best for your business. There is no right or wrong answer when your lease ends. Our sales reps can advise you on the next steps to renewing the lease, buying it out, or upgrading. Additionally, our team will help with returning your old printer, setting up the new equipment, and training your team on your new device, if applicable.
The professional team at American Lazer is ready to help your business make this decision. Contact us today by clicking here or call (866) 922-9003 to contact our team.