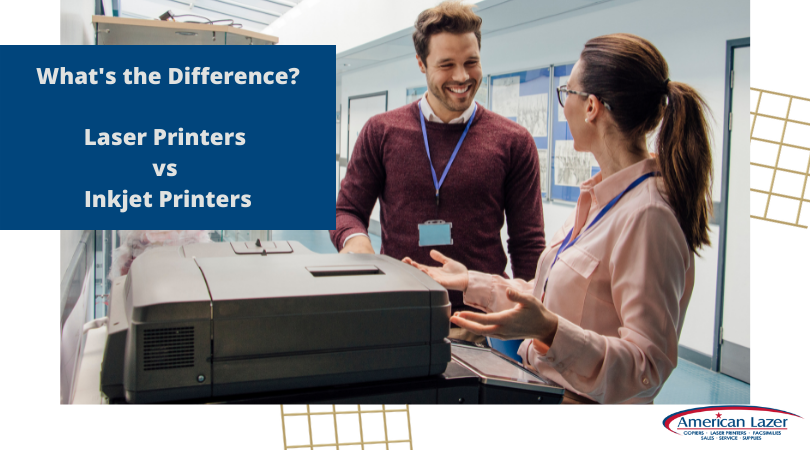 Laser vs. Inkjet Printers
Inkjet and laser printers both have their strengths, but they also differ in the types of prints that are produced.
Inkjet technology originated before the laser printer. An inkjet printer sprays droplets of black or colored inks from a nozzle onto a blank page. The print process is simpler therefore the printers tend to be smaller and less expensive. Additionally, the ink cartridges usually cost less than a laser printer's toner cartridges. This is perfect for producing high-quality color images, great for businesses that print marketing collateral or photos.
The laser printer consists of a more complicated process where the machine fuses dry toner powder to your printer paper. This results in crisp, sharp lines, and text. This type of MFP/printer is less wasteful and prints at a lower cost per page. This is printer is suitable for businesses, schools, law firms, and any business that mostly prints text. Plus, laser toner cartridges are recyclable!
Which is best for your business?
If your business prints a lot of black and white documents such as invoices, statements, and contracts then the laser printer would be suitable.
If your business prints marketing collateral or image-heavy documents, then an inkjet with its vibrant colors would be right.
If you are budget conscious, a laser printer will save you money over the term of the machine.
Floor footprint. An inkjet printer takes up less space than a laser printer so if you are crunched for space, the inkjet may be the best option.
Speed of printing. Laser printers print at a faster pace than inkjet printers, making them more efficient for large print jobs.
Inkjet printers are best for colorful print jobs but they have their drawbacks. The cartridges are cheaper but the cost for printing is higher due to increased use. Inkjets need frequent cleaning or else it will cause clogged print heads which can increase your costs even further because then you will need servicing from an expert.
The downside of laser printers is that they are a little harder to maintain because of all the components. But it is not usually a problem for offices that lease their printers or are on a service plan.
If you are researching which printer to invest in, contact us! By choosing American Lazer, you will be gaining the knowledge of MFP experts who will help you choose the perfect machine for your business and service the machine for years to come. Click here or call (866) 922-9003 to get in touch today.