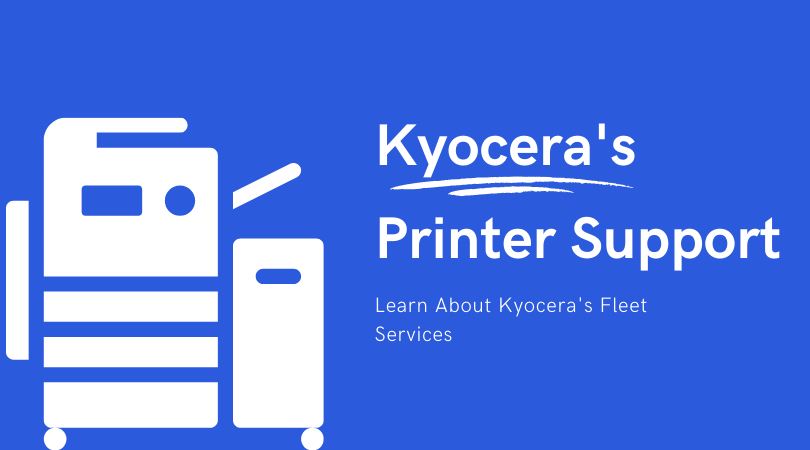 Fleet Services: Learn About Kyocera's Printer Support
Did you know that Kyocera offers remote monitoring for fleets? Kyocera's printer support allows professionals to remotely monitor the performance of their organization's machines. This includes conducting remote diagnostics. It also includes looking at live information on your devices to make sure that they are working correctly and efficiently. The goal of Kyocera's Fleet Services is to make your business more efficient through the use of print.
At American Lazer, we offer high-quality multifunction printers, including Kyocera brand machines. From helping you choose the best machine for your workplace, to installing and servicing your multifunction printer, we are committed to supporting our clients in the long term. We serve businesses located in Eastern Massachusetts and Southern New Hampshire. Click here or call (866) 922-9003 to contact us today!
Today, we'll discuss some of the ways in which Kyocera Fleet Services can help your business.
The Benefits of Kyocera Fleet Services: How Kyocera's Printer Support Will Help Your Business
Less Downtime
Normally when you experience downtime, hours of productive time are lost. Between figuring out who to contact for help and waiting for a tech person to find time in their schedule to serve you, printer issues can end up creating significant downtime. With Kyocera Fleet Services, downtime due to technical issues will be greatly reduced. With a team of experts remotely monitoring your devices, you will be alerted immediately when a device is down, and the team will begin to assist you right away. Plus, unlike a general tech support person, the Kyocera team has professionals who thoroughly know the machines. Check out our recent webinar with Kyocera to get to know the Kyocera team. Remember that less downtime means more workplace productivity!
Help with Software Updates
Software updates can be confusing to handle. In addition, they can automatically begin during busy work hours, preventing you from using your printers when you need them the most. With Kyocera's printer support, you will no longer have to worry about software updates. Your Kyocera team will track when software updates are needed, and ensure that they are completed during off-peak hours. This will keep your printers updated and working smoothly while avoiding disruption to your workplace productivity.
Quick, Contactless Service
Fortunately, we live in a time when most technical support can be given remotely. Kyocera's Fleet Services can take care of any technical questions or issues remotely. This saves the time that it would take for the Kyocera team to travel to your office to address issues, which in turn decreases downtime. In addition, it frees up the time that it would take for your office manager to coordinate Kyocera's visit, and gives your IT team more time to focus on important, internal work. Kyocera's quick, contactless service will keep your team working efficiently and avoid unnecessary distractions, which is yet another reason why many organizations are choosing Kyocera.
Consider Kyocera's Fleet Services for Your Eastern Massachusetts or Southern New Hampshire Workplace
Kyocera printer support has many benefits for workplaces. Whether you are in the healthcare industry or a traditional corporate setting, and whether your organization is large or small,  Kyocera can help. Kyocera Fleet Services decreases downtime, gives you assistance with important software updates, and provides you with quick, contactless service. If you are interested in Kyocera Fleet Services, click here or call (866) 922-9003 to get in touch.