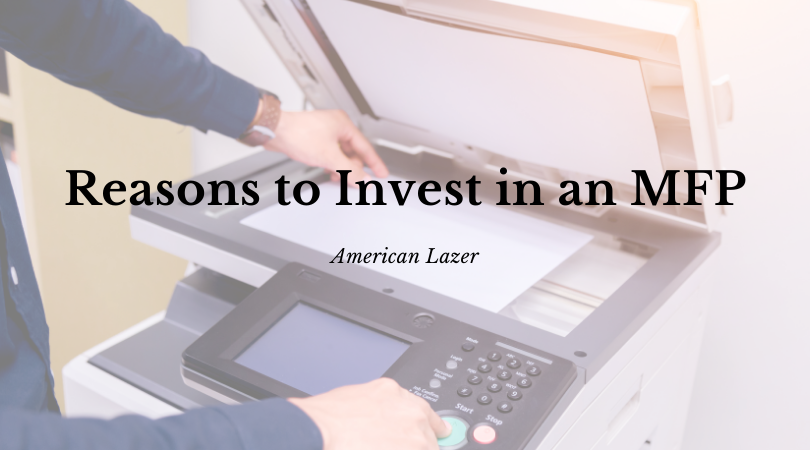 Reasons to Invest in an MFP
How Does a Multifunctional Printer Work?
Many
offices today are investing in Multifunctional printers (also known as MFPs). An MFP contains the functionality of multiple devices in one machine. Most MFPs can print, copy, fax, and scan images at the same time. By contrast, single-function printers are machines that can only print and that do not have any other functions. Many companies are choosing to invest in MFPs today because of the myriad of benefits that they bring to the table.
Are you an Eastern Massachusetts or New Hampshire area business that is interested in investing in a Multifunctional printer? American Lazer has been helping businesses run more smoothly since 1993 and we look forward to helping you make this important investment. Call (866) 922-9003 or click here to get in touch with us.
Now, we'll discuss why you should invest in a Multifunctional printer.
Why Invest in One?
Space Saving
Whether you are working in a home office or a traditional office, there is rarely extra space to waste. One of the benefits of a Multifunctional printer is that it saves space. Rather than having to find space for several machines for printing, copying, faxing, and scanning, with an MFP you only have to make room for one machine.
Cost Cutting
Though MFPs usually cost more than single-function printers, they cost less than buying separate machines for printing, copying, faxing, and scanning. Plus, the cost of maintaining one machine is considerably lower than the cost of maintaining one machine.
Convenient
With an MFP, employees only need to walk to one area of the office for all of their document needs, rather than to several separate areas. Having a machine that covers many functions will save your employees time, making them more efficient overall. In addition, MFPs usually operate more quickly than single-function printers, which will also save time. Not to mention the fact that an MFP can handle several tasks at the same time, which will eliminate slow lines at the printer and allow everyone to get back to work quickly.
Easy to Use
MFPs have tablet-like interfaces, which make them simple to use, even for people who are first learning. Therefore, when buying an MFP, you don't have to worry about excessive time being spent on employees trying to figure it out. Furthermore, many Multifunctional printers are cloud or mobile connected, which makes it easy for employees to continue using it to share, scan or distribute information when they are on the go or working fromhome.
Invest in a Multifunctional Printer for Your Massachusetts or New Hampshire Office
Your workplace will doubtlessly benefit from an MFP. From their ease of use, and convenience to their ability to cut down on costs and save time, Multifunctional printers have endless benefits. MFPs are an excellent investment for your workplace, whether employees work remotely or in the office. If you are interested in learning more about American Lazer's MFPs, Click here or call (866) 922-9003 to get in touch today.