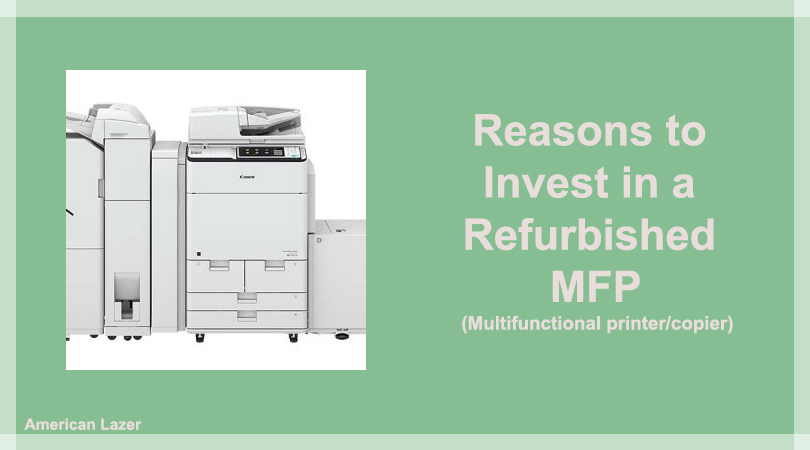 Reasons to Invest in a Refurbished Printer
Does your office need a new printer? Deciding on a printer can be challenging given the enormous variety to choose from. Between navigating the different models, functions, and price ranges, the research can be arduous. Choosing a practical and well-functioning printer for your office is essential. Though you may assume that you need to buy a brand-new printer in order to obtain a machine that is high quality, this is far from true. In fact, refurbished printers are becoming commonplace in office settings. At American Lazer, we supply offices with both new and refurbished printers. 
The Refurbishing Process 
American Lazer's refurbished machines go through a series of steps to get the MFP back to near its original state. This process requires disassembling the machine, cleaning, replacing components, reassembling to restore the equipment to its condition when originally manufactured, which is why the process is also referred to as remanufacturing. 
When we receive an off-lease MFP, it is disassembled in preparation for refurbishment. Toner, dust, and debris buildup are removed, and the exterior is thoroughly cleaned. Paper feed systems and print quality are tested. If needed, the pickup rollers, feed rollers, separation pads, and other pieces are replaced with new components. Software is tested and updated with the latest version. A final inspection is performed to make sure the refurbished MFP is ready for sale or lease. 
If you are interested in exploring one or both of these options, don't hesitate to click here or call (866) 922-9003 to get in touch with us. Now, we'll explore the pros and cons of buying a refurbished printer.
Reasons to Invest in a Refurbished Printer
Environmentally Friendly 
Buying a used printer is one of many ways that your company can do something positive for the environment. By choosing a refurbished printer, you will likely be saving a used printer from being sent to a landfill. When many companies choose refurbished printers, less new printers are produced, which saves resources.
Money Saving 
Refurbished printers cost less. Saving on cost does not mean that you have to sacrifice on quality, however. Like buying a refurbished smartphone or computer, buying a remanufactured printer is a wise and cost-reducing decision. 
Since used printer models have been on the market for more time than new printers, their toner and ink cartridges may also be easier to find and less expensive to buy than those for new printers.
Suitable for Your Needs
If you are buying a new printer, you may be paying for new features and benefits that your company does not actually need and will not use. It may be that a more simple, refurbished printer will contain all of the features necessary for your office. 
Possible Drawbacks of Buying a Refurbished Printer
Regular Cost
When buying a refurbished printer, you should research the printer model and make sure that you are buying from a trustworthy printer service company. 
Warranty Length 
Refurbished printers typically come with a shorter warranty than new printers. Make sure that you are satisfied with the warranty length being offered. Remember that warranties can often be negotiated. 
Choose Refurbished 
Consumers should choose refurbished MFPs (printers/copiers) in order to save money, reduce waste, and help the environment. The manufacturing process of building new printers generates carbon, consumes raw materials, and uses significant energy. American Lazer's refurbishing process reduces these adverse effects. Additionally, our printers are rebuilt in Beverly, Massachusetts thus supporting the local economy.
There are pros and cons to buying refurbished printers, and it is important to decide which type of printer is the best fit for your home or office. Whether you choose a refurbished or new printer, American Lazer is ready to serve you and guide you in this decision click here or call (866) 922-9003 if you would like to discuss printer purchasing options.