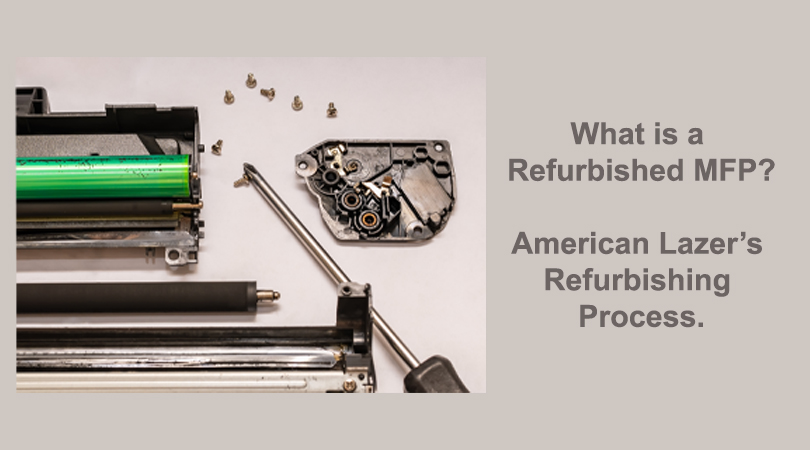 American Lazer's Refurbishing Process
What is a Refurbished MFP?
Refurbishing a Multifunctional Printer/Copier (MFP) is the process of rebuilding a used MFP to make it ready for resale.
This process requires disassembling the machine, cleaning, replacing components, and reassembling to restore the equipment to its condition when originally manufactured, which is why the process is also referred to as remanufacturing.
American Lazer's Refurbishing Process
American Lazer's refurbished MFPs (multifunctional printers/copiers) go through a series of steps to get the MFP back to its original state.
When we receive a pre-owned MFP, we disassembled it in preparation for refurbishment. Toner, dust, and debris buildup are removed, and the exterior is thoroughly cleaned. Paper feed systems and print quality are tested. If needed, the pickup rollers, feed rollers, and separation pads are replaced with new components.
The fuser assembly is inspected and refurbished by cleaning, re-lubricating, and replacing the fuser roller/film or direct replacement when necessary. The network card, formatter, and other software components are tested and updated with the latest version. A final inspection is performed to make sure the remanufactured MFP is ready for sale or lease. Each refurbished MFP is professionally and securely packaged and shipped to you.
Consumers should choose refurbished MFPs in order to save money, reduce waste, and help the environment.  The manufacturing process of building new printers generates carbon, consumes raw materials, and uses significant energy. American Lazer's refurbishing process reduces these adverse effects. Additionally, our printers are rebuilt in Beverly, Massachusetts thus supporting the local economy.
There are pros and cons to buying refurbished printers, and it is important to decide which type of printer is the best fit for your office. Whether you choose a refurbished or new printer, American Lazer is ready to guide you through this decision. Click here or call (866) 922-9003 if you would like to discuss printer purchasing options.