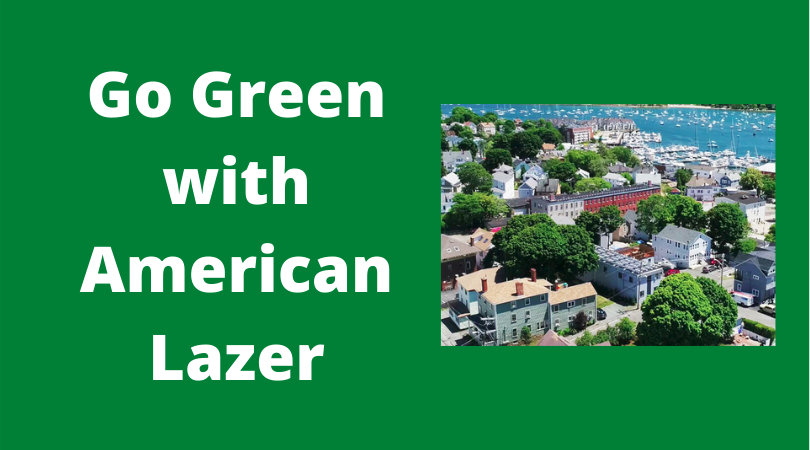 American Lazer's Eco-Friendly History
As more companies shift their priorities to include environmental initiatives, American Lazer has included this as a part of their mission and vision for over two decades. Eighteen years ago, it began a recycling program with a local college and never looked back.
American Lazer has understood the value of sustainability in the workplace and with its customers through offering refurbished MFPs, recycling programs, paper monitoring plans, and energy conservation initiatives.
According to the EPA, the average office worker uses 10,000 sheets of copy paper each year!1
Why Going Green is Important for your Business
Natural resources continue to be depleted and companies that offer products that have high paper, recycling, or energy requirements, such as American Lazer, have become more environmentally aware. Its green initiatives ultimately help their customers save money and become more eco-friendly, themselves. An important benefit of going green is that buyers are investing "their money in eco-friendly products and brands"2. Plus, the ability to reduce paper and lower spending allows for the companies to reinvest the money into other green projects.
American Lazer's Green Initiatives
With a robust recycling program already in place since 2000, Carl Ekborg, president of American Lazer, took the next step to distinguish his business from others in 2018 by having 60 solar panels installed at the Beverly, MA location. Solar panels are a reliable, renewable resource – when the sun is shining the panels generate clean, renewable electricity. And his vision did not stop there, instead three Chevy Volt electric cars were purchased in order to provide carbon-free service and sales deliveries. Employees also participate in the green initiatives by increased internal paperless communication and buying local (which helps reduce the number of miles your food or product needs to travel to reach you as well as supporting your local business).
American Lazer's Green Initiatives for Customers
American Lazer has green options for its customers. The refurbished MFPs (copiers/printers) are reused and revamped machines that not only avoid clogging up the landfills but also is lower in cost, saving you money. American Lazer's free toner cartridge recycling program has resulted in the diverting of tons of waste away from landfills and incinerators. Additionally, the MFP (printer/copier) enterprise content management software program helps businesses track their paper and energy consumption resulting in a reduction of paper and energy waste. Along with that, it provides an online dashboard that reduces the carbon footprint of in-person visits.
When searching for a company that shares your environmentally friendly values, reach out to American Lazer. With over 25 years of experience in sustainable practices, it is a company you can trust. On top of that, your brand will also benefit from the green initiatives. We are dependent on one another and, therefore, responsible for each other and future generations. Click here or call (866) 922-9003 to get in touch.
Source:
1. The Benefits of Automatic Duplexing, https://www.epa.gov/sites/production/files/2013-09/documents/fec_automatic_duplexing.pdf, 09/12/13
2. Thanks To Consumer Demand, Companies Are Greener Than Ever, Nicole Cadwell, https://www.greenmatters.com/living/2017/08/07/ZiYtXd/companies-go-green